As the clock of European Glory ticks down to its final hours, it is now time to head down towards the final four of the UEFA Champions League. The first post-pandemic tournament had the drama of equal magnitude as any of the previous season; the heartbreaks and the upsets followed by a series of comebacks, this UCL season ticked all the boxes thus far and promises a thriller ends with a potential new champion of this prestigious tournament.
After a series of heat in the knockout stages, the four teams that qualified for the semis are Manchester City, Chelsea, Real Madrid, and Paris Saint German. The Tournament once again sees an English dominance followed by the royal presence of Real Madrid with Paris being the X-factor of the season. Where most English supporters are rooting for an all-English final, it is quite feasible to end up otherwise. So, let's break down the two matchups and check through clubs that should hold the upper hand.
Game 1: Real Madrid vs Chelsea
As the Blues are set to fly to Madrid for their first UCL semi-final since being trashed by Atletico Madrid back in 2014, Zidane and the company would be more than welcome to host them. After a rough patch, Real Madrid, as always, has been finally spotted to gain some action back at the deciding end of the season. After a heroic tie win against Liverpool in the quarter-finals, the club is now looking ahead to secure their 14th title.
Even with a recent hiccup in LaLiga, where the team could only manage goalless draws against Getafe and Real Betis, while potentially shattering their chances of winning the domestic tournament, it could be a blessing in disguise as the club now can focus only to win the all-important UCL.
On the other hand, after a not-so-impressive start to their season followed by the sacking of their former manager and club legend, Lampard, Chelsea now looks a better, improved, and more organized team with one eye on the trophy themselves. Under Thomas Tuchel, the team turned heads over heels almost overnight, playing more organized football and overall greater chemistry between the players. One of the upbringing factors of Chelsea's success would surely be the uprising of their young prodigy Mason Mount. The new number 19 has been inflaming hot form under Tuchel and does not seem to stop in any near future.
On one hand, where Chelsea's current number 10 is glowing, their former number 10, Eden Hazard, who left the London club to join Real Madrid back in 2019, has not had the most welcoming start at his new club. Being out of form followed by a series of injuries, this Belgian professional is now finally fit to play on the white jersey. And no one knows better than Chelsea themselves, how big of an impact Hazard may have on such big games.
Playing on their home turf, Madrid should definitely have the upper hand with the help of the newly gained confidence of their Brazilian sensation Vinicius Jr, whose impact was the deciding fact against Liverpool. Furthermore, the club only concedes two goals in their last five UCL draws and won nine out of the last 10 knockout ties in the tournament. But surely Chelsea should put up a fight and not give away any easy point, if not gain the upper hand themselves, as Thomas Tuchel already became the first Chelsea manager to win all of their 10 first away games. But if I am here to predict, on a good day a 1-1 draw between the clubs would be a good day for Chelsea, whereas if Vinicius and Hazard can turn the thing up for Real, they might end up on a two or more goals lead on the aggregate before flying to London next week.
Game 2: Paris Saint German vs Manchester City
On missing out on the trophy last season, the French giant PSG is in the red-hot form to win it this year. The surprise change in a managerial post by the club is turning out to be a massive gamble as they progressively beat Barcelona and Dortmund on their way to the semis.
Having a squad packed with superstars is something quite common for both clubs. The main difference would be their approach towards the game, where PSG plays a more consistent attacking football centered on Neymar and Mbappe whereas the citizens are guilty of changing the formation and tactics every now and then. with the upbringing of the City's young sensation Phil Foden, Pep Guardiola would finally be hoping to break his Champions League curse after leaving Barcelona. But will Phil Foden be any match to the already superstar and crowned world cup champion Kylian Mbappe? Probably not, but however, the Citizens have dubbed a far better team when it comes to the experience of playing on the biggest stage.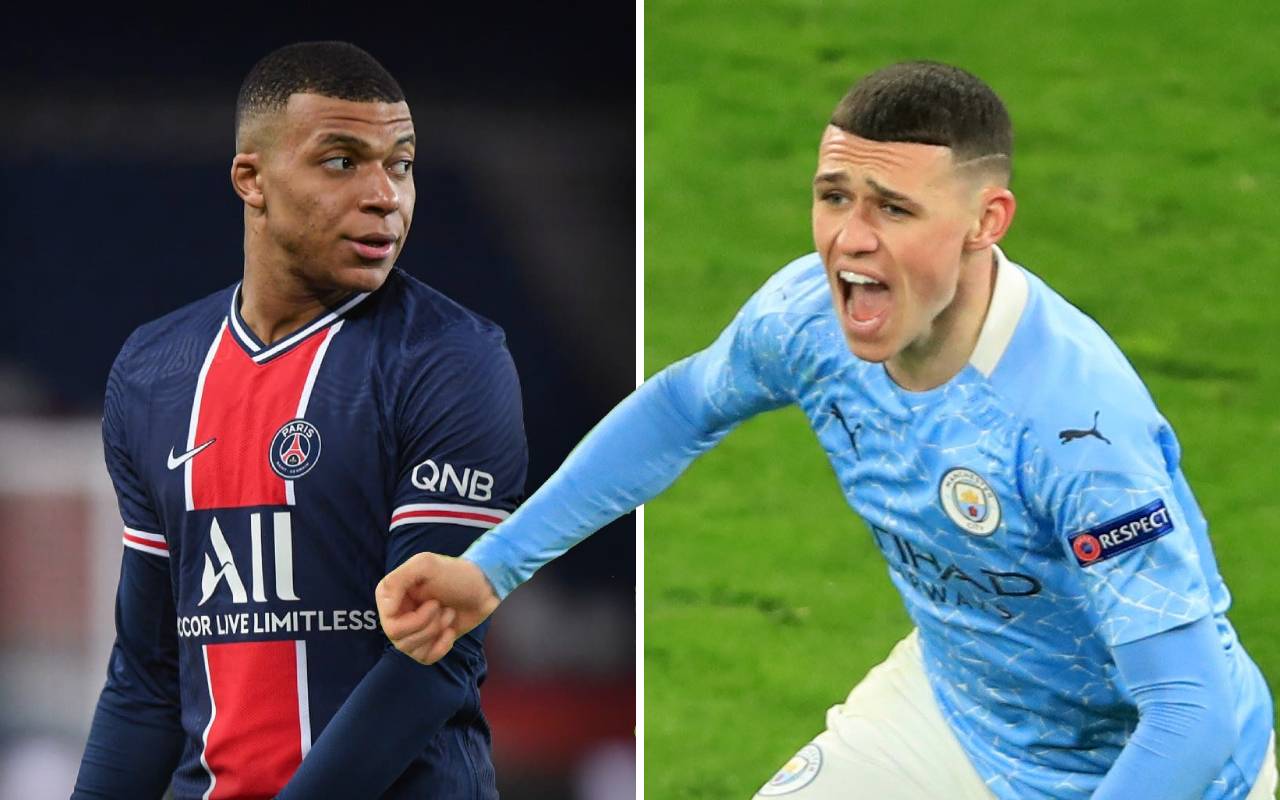 Both teams have a destructive front lineup, but when it comes to midfield play City surely holds an upper hand. Kevin De Bruyne is currently arguably the greatest midfielder there is in all of Europe, and to no surprise has had a good run with the ball in terms of scoring and assisting. But it will not be a walk in the park for even the greatest in this game as PSG's goalkeeper, Navas, has been sensational throughout the tournament where they only conceded 11 goals in the last 10 UCL games. To elaborate more on it, Navas made a total of 48 saves, the highest in the tournament so far, and was the wall against Barcelona.
To add more to their similarity, both clubs are well off in their own domestic leagues and should win if no last-minute drama occurs. The clubs are expected to play their full-strength teams since neither have any serious injury concerns, even though Sergio Aguero has been on and off for City the whole season.
On a head-to-head basis, this tie is expected to be an absolute thriller with PSG having a slight upper hand since playing in their own background. But it is speculated that both teams will play aggressively and goals are expected to be scored on either end. And it is expected to be a cracker of a game for clubs that are so similar on the basis and are both hungry for their maiden title.