Euro 2020 – Semi-Finals
Being just a step far from the prestigious Wembley finale, our top four of the European Championship is all set. After a series of nerve-racking quarter-final games, the world is now set to witness two more special games of this very-very special competition. So let's break down the two games in hand and see for ourselves if we can predict our possible finalists.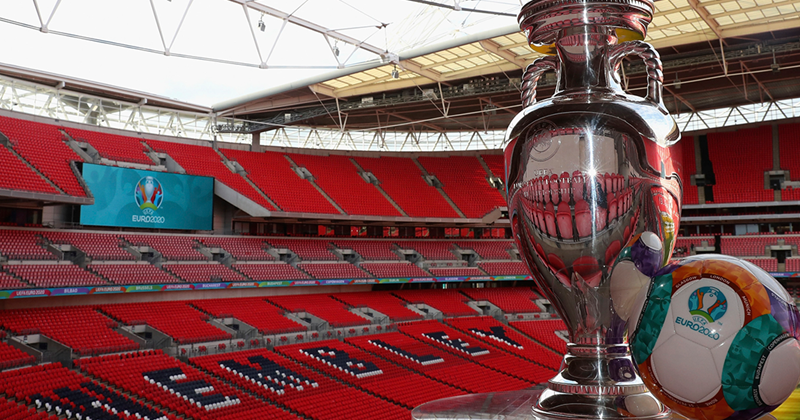 Game 1: Spain vs Italy
The clash between Spain and Italy goes way back in history and is one of the classics of the tournament. As it is said, it is not a proper Euro if these two teams do not face each other. As two of the biggest European teams managed by arguably two of the greatest football minds at present, the first semi-final is going to be an eye raiser.
Italians and Spaniards will clash in the knockout rounds for the fourth consecutive Euro competition, but both national teams have a new vibe about them ahead of their semifinal meeting at Wembley Stadium in London. On one side we have Italy, the team unbeaten for the last 32 games, and on the other side, Spain scoring the most number of goals throughout the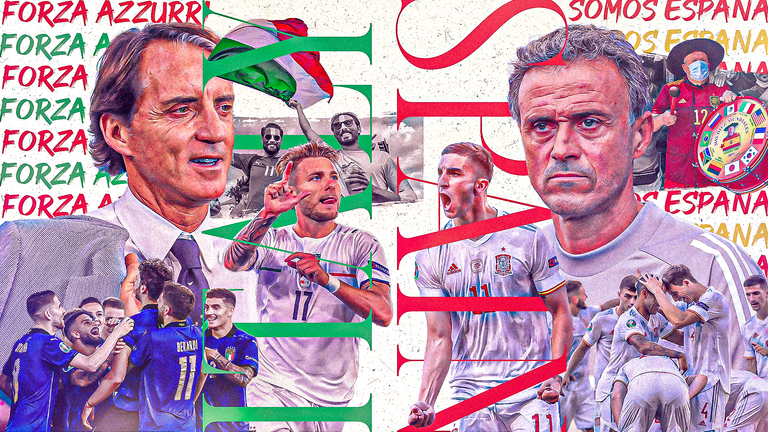 tournament playing their classic "tiki-taka" football.
Italy has won all five of its tournament matches so far, led by manager Roberto Mancini. Defeating No. 1-ranked Belgium in the quarterfinals, and its march to the semis has been marked by a swarming, attack-first attitude that has Italians rekindling their passion for their national team after the 2018 World Cup failure. Whereas, Spain, which has won just two of its five games at Euro 2021 and needed a penalty-kick shootout to beat Switzerland in the semifinals, stands in its way. However, as the competition proceeded, Luis Enrique's squad gained confidence, and it is currently one step away from a third Euro final in the previous four editions.
For the game itself, I expect both teams to plat the 4-3-3 lineup, while both missing out on one crucial starter due to injury. Spain's winger Pablo Sarabia is set to miss out and Italy's star player of the season, Leonardo Spinazzola, ends his tournament early due to a torn Achilles. Italy's rest of the lineup could remain unchanged whereas Spain might replace Pau Torress with Eric Garcia for the game.
Many are anticipating a wide-open game between two sides that are technically skilled enough to pull it off, given that both teams have a tendency for pressing to win back the ball and then retaining it to create. Even if they're both known for upbeat, attack-oriented tactics, we seldom see wide-open matches when two powerhouses meet with this much on the line. While the Italians have had enough experience with Spain's approach over the years, they have yet to face this version of Italy under Mancini, who took charge after the team's dismal 2018 World Cup exit. The previous time Italy and Spain met was eight months before Mancini took control. I personally believe Italy has the upper hand in this particular game for its breathtaking chemistry among the players. And where Spain struggles to find their perfect finisher, Italy's Insigne is in the form of his life, even though Spain has scored the most goals throughout the competition.
All in all, I look forward to an epic battle, but I feel Italy will come out on top and within the initial 90 minutes.
Prediction: Italy wins within 90 minutes, scoring at least two goals.
Game 2: England vs Denmark
England maybe only 90 minutes away from a major final for the first time since 1966. Even though the Three Lions have already gone this close but fallen short, most notably in 2018, there is genuine optimism that they can take the next step this time, even against a Danish team that has surprised Europe in recent weeks. England under Gareth Southgate has inspired a country. After coming so near but so far in Russia 2018, the 50-year-old has taken the Three Lions to back-to-back semi-final appearances at a major tournament, twenty-five years after his Euro 96 penalty miss that he is undoubtedly sick and tired of hearing about.
After passing their biggest test against Germany, England headed away from Wembley to face a Ukraine team that was extremely lucky to even be in the knockout stages in the first place, but not even the most fervent supporters could have predicted the Three Lions' dominance in Rome.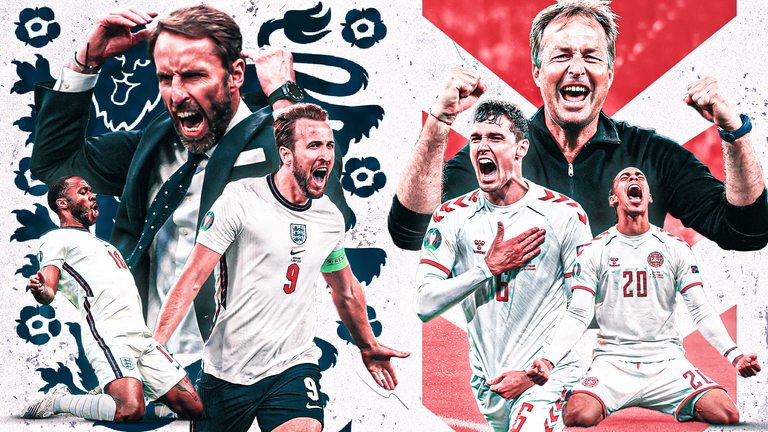 What began as a horror show has since evolved into the stuff of dreams for the Danish people, who are doing Christian Eriksen proud at every turn. One can only picture the dazzling joy on the Inter Milan playmaker's face as he watches his club attempt to make history, despite the fact that his colleagues would do anything to have him back on the pitch.
Nonetheless, Kasper Hjulmand's team has fared far better than anybody could have expected after watching the horrific circumstances on the first matchday, and they followed up their thrashing of Wales in the last 16 with a 2-1 victory against the Czech Republic in the final eight.
England is expected to continue with their 4-3-2-1 line-up, which has been vastly effective in their past few games. Even though Jadon Sancho was impressive in their last clash against Ukraine, Bayo Saka is expected to return for the game. Non the less, the English squad seems very fulfilled and the regular starters seem all set with enough quality players to be substituted according to the game progression. However, Southgate personally has been very experimental but a safer option would be to stick to a consistency.
Aside from Eriksen, Denmark has a strong lineup for the semi-final, however, Yussuf Poulsen was only fit enough to play off the bench against the Czechs and will struggle to replace Dolberg, who is in fine form. Daniel Wass should be fit enough to fight for a starting spot on the right, but Jens Stryger Larsen, who assisted on Delaney's first-half goal, will not be willing to give up his spot at Wembley. Captain Simon Kjaer has overcome his own fitness worries and is ready to lead his team out in the English city, and Hjulmand is likely to pick an unchanged starting XI for Thursday night's match.
To put it all down, I believe England should win the game even though it will not be an easy walk in the park for them, the game should be concluded within the original 90 minutes.
Predictions: England wins within 90 minutes but not by the biggest margins.
This Euro has been special, filled with unexpected results. At the beginning of the tournament, I personally would not have drawn the outline as it eventually turned out to be, but that's the beauty of this game. My finalists:
England and Italy